Since 2019, IIFT is conducted NTA. It is now conducted in online mode.
There are Total 4 sections in IIFT Exam. One of them is GK. 
There will be 20 GK Questions in IIFT.
Weightage to each GK Question is 1.5 marks.
So total weightage to GK Section: 30 Marks

Sectional cutoff is always on a lower side. Good marks in IIFT GA would be 10+.
Your selection is IIFT is totally dependent on GK Marks. Students who get 20+ in GA have pretty high chance to get a call then students getting less then 5 marks in GA.
GKmojo is the great platform for students preparing for IIFT GK. Our students do well in paper.
Topics to cover for IIFT GK:-
There would be static gk questions as well as Current affairs based questions in Paper.
Here are some topics which are very important for IIFT GK point of View:
1) Stock exchanges
2) Mergers and acquisitions
3) Sports mainly world cups, Grand slams and other major worldwide tournaments. 
4) Appointments in business world & Politics
5) Capital and currency
6) Important days in year with themes
7) Latest books and authors
8) Basic Geography & Polity
9) Basic Economy & RBI affairs
10) Past 8 months current affairs mainly developmental programs, events and places. 
11) International Organizations ( HQs, Heads and their work) 
12) National parks, Dams, Airports, Rivers and cities etc. 
13) Parliaments of different nations
14) Recent summits
15) Rankings of India in different indices 
16) Business affairs mainly Tag lines, new products and current brand ambassadors etc
17) List of Indian heading top MNCs. 
18) Military Exercises of India. 
19) Foreign Trade, Sea Ports etc
20) Regional Festivals, dances etc
These are some major topics to cover for IIFT. 
Past IIFT GK Paper and GK Insight
Gandhi Solar Park is inaugurated on 2nd october 2019, at which Organization's HQ?
Answer: UN


Which automobile company launched India's 1st ethanol based bike?
Answer: TVS


Maximum migrants from which country?
Answer: India


Country not part of BIMSTEC?
Answer: China


83 Biopic is based on
Answer: Kapil Dev


Name the sports brand, which logo is based on Animal of wild cat category?
Answer: PUMA


Raman Magsaysay Award is not given to
Answer: CNR Rao


Co-founder of Veg-NonVeg Sneaker Brand?
Answer: Anand Ahuja 
Q. India is building which of the following port in Iran in order to improve the trade connectivity with Iran, Afghanistan and Central Asian countries
Answer: Chabahar Port

Q. Which of the following is not an elected post in India?
Answer: Governor
Q. What is the Currency of Bulgaria?
Answer: Lev
Q. The Panama Canal expansion project is also referred to
Answer: Third Set of Locks
Q. Which of the following Indian states share border with multiple countries? a) Manipur b) Mizoram c) Tripura d) Bihar e) Sikkim f) West Bengal g) Assam
Answer: (b), (f), (g) and (e)
Q. Which of the following Company has acquired Jabong in July 2016?
Answer: Myntra
Q. The 2016 Joint Military Exercise "Maitree" has been conducted between India and which of the following country?
Answer: Thailand
Q. Which of the following best represents baking soda?
Answer: Sodium Bicarbonate

Q. Sustainable Development Goals have replaced
Answer: Millennium Development Goals
Q. Which Indian player has created junior world record in "Javelin throw" in July 2016?
answer: Neeraj Chopra
IIFT 2016 General Knowledge Paper,topics that were asked in paper and weightage to different sections
In 2016, Questions were from both current affairs and static gk as per our expectations.
There were 17 Qs in paper that were from our GK course. I think highest strike rate in India.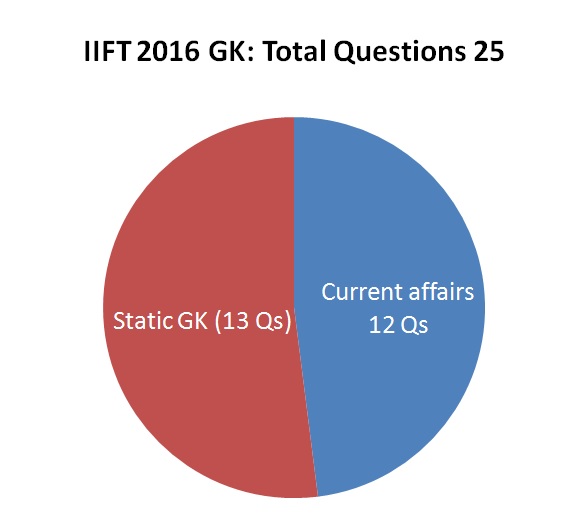 Break-up of Questions topic wise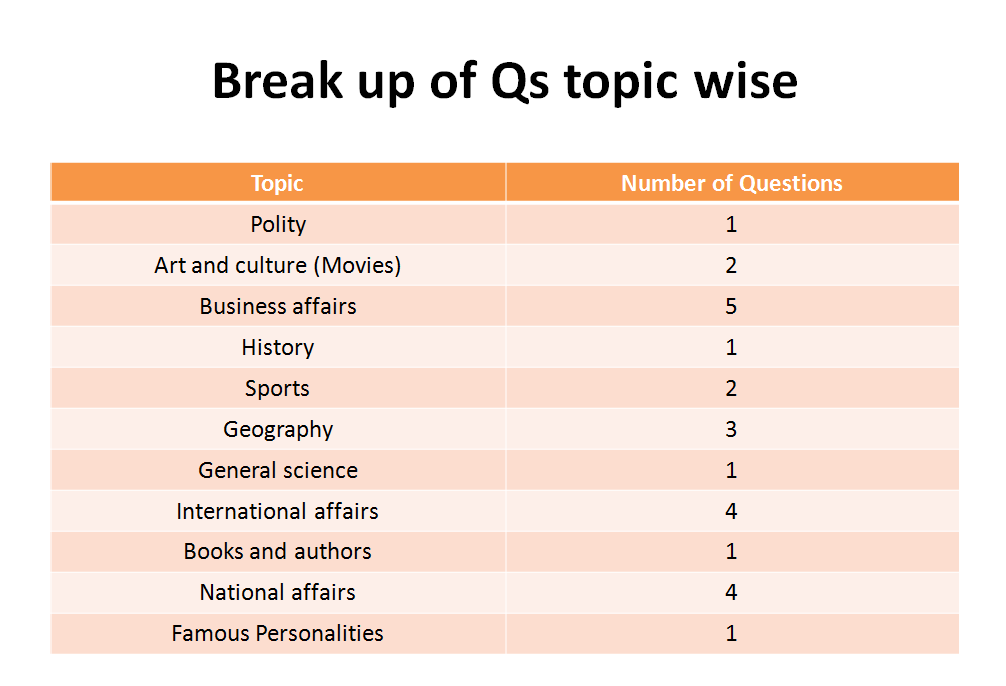 Here is the last year paper 2016: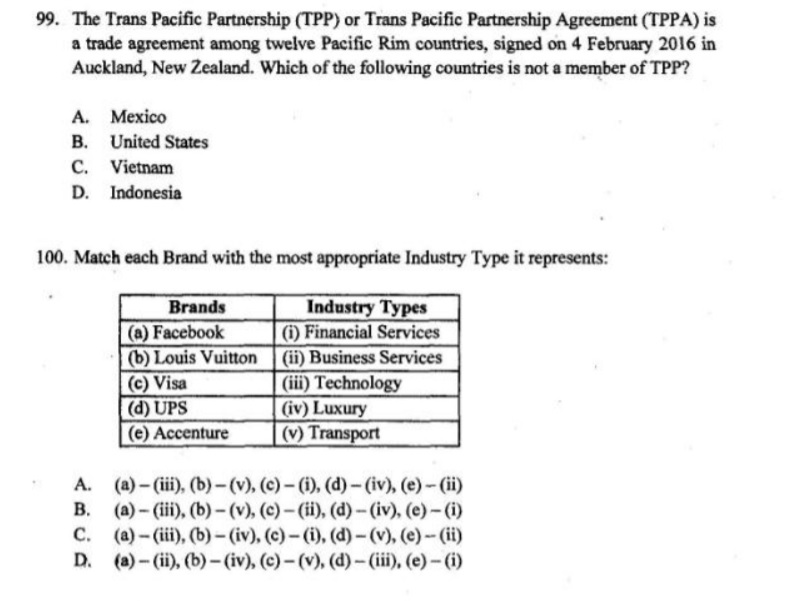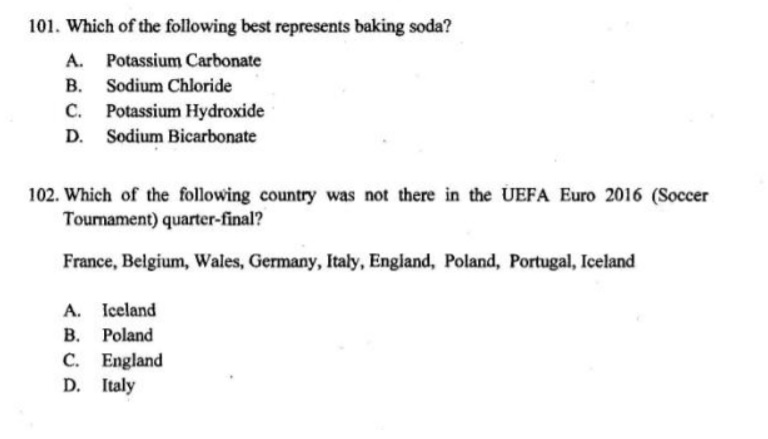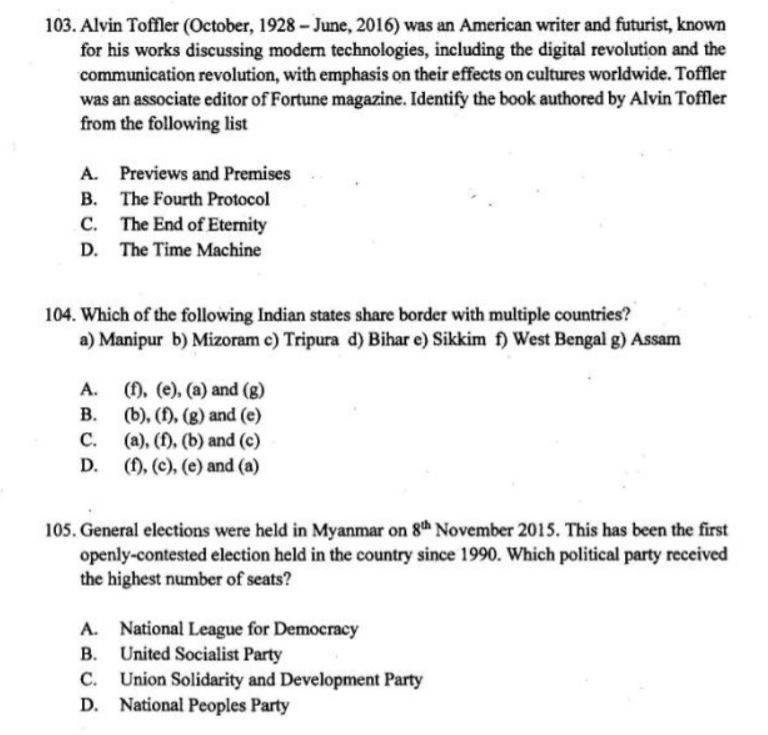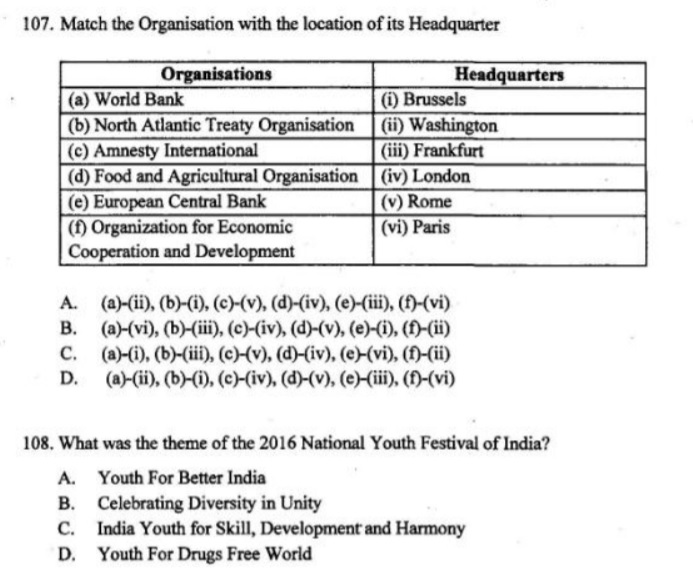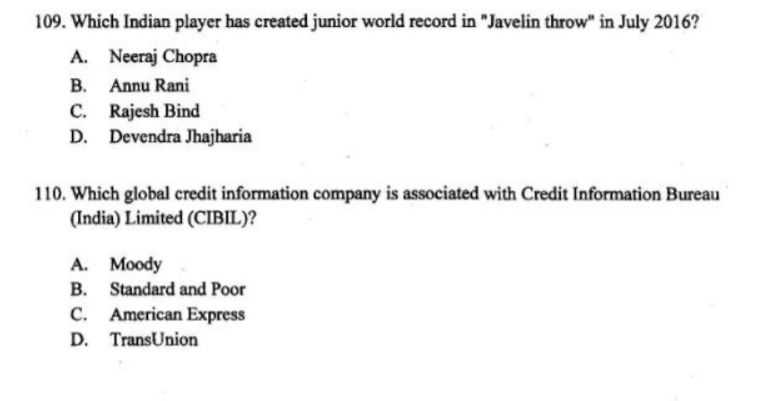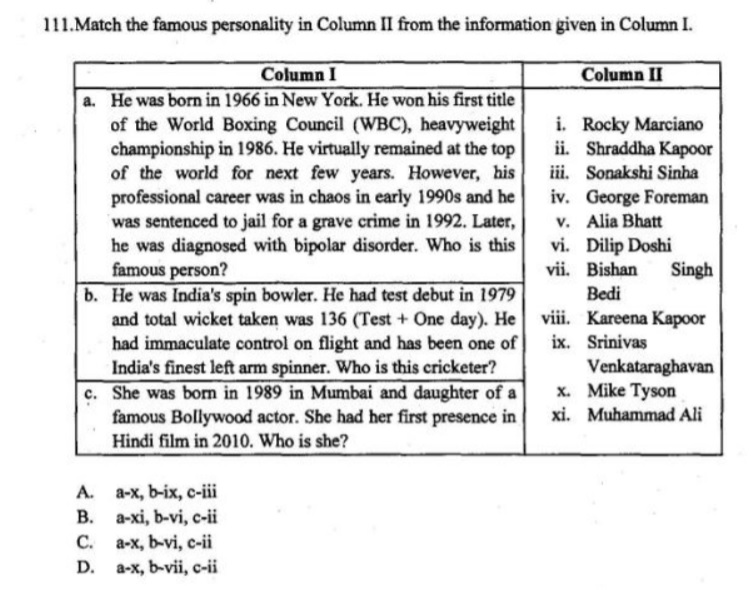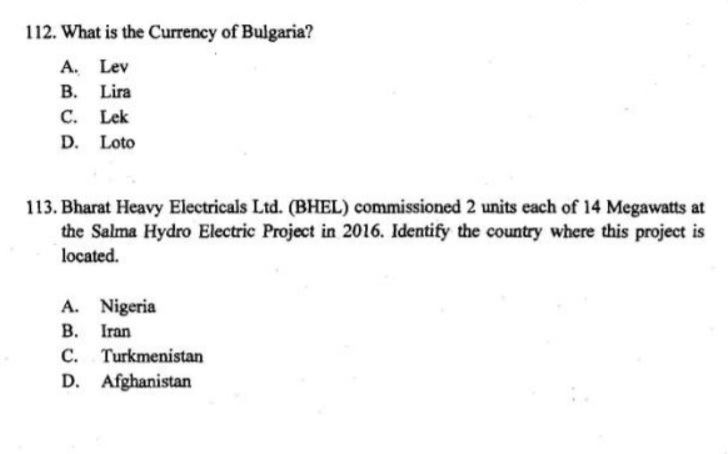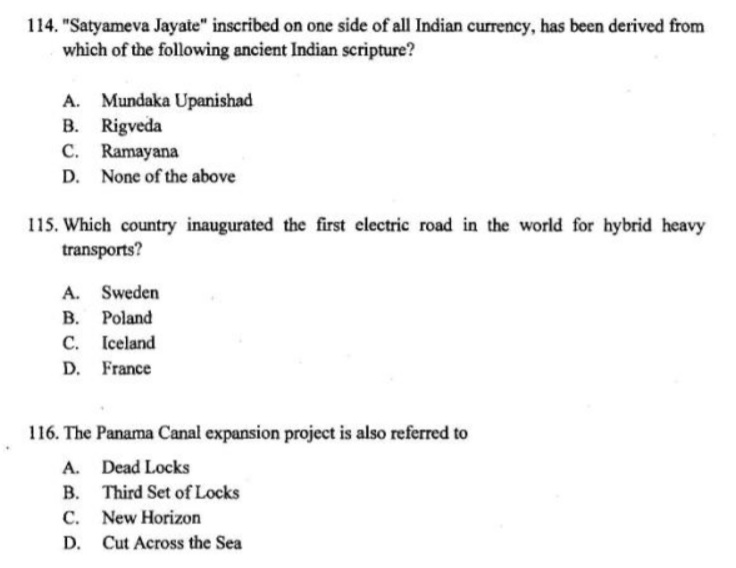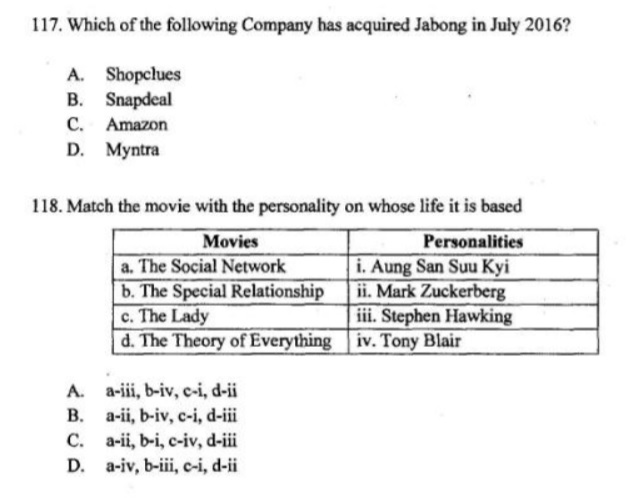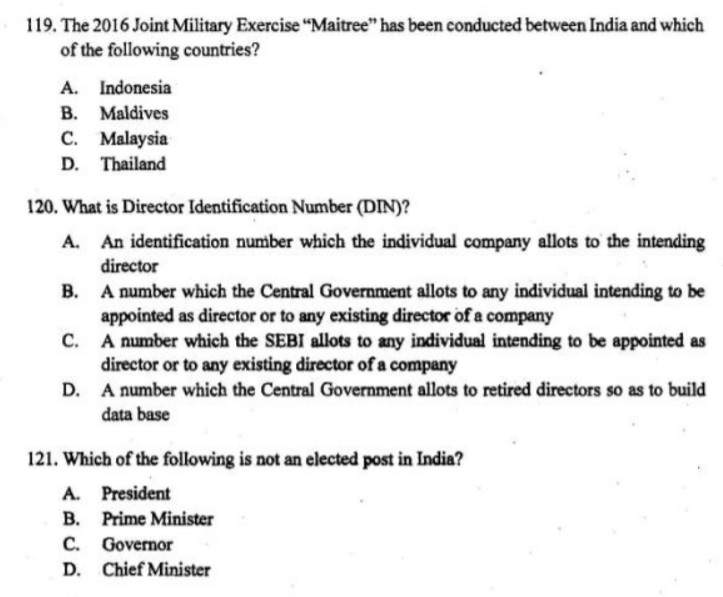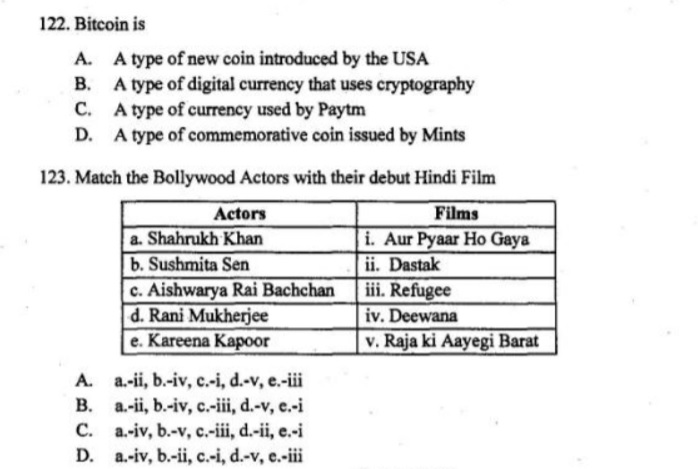 Answer key: dcdca-bacdc-ad.ad-aabdb-dbcbd
IIFT GK Course 2023
If you wants to score more than 99
% students appearing in IIFT, Then Join GKmojo IIFT GK Course 2023:
MBA GK Course 2023-24 for IIFT TISS XAT CMAT MICAT MAT etc
Every year more than 80% Qs in papers of IIFT TISS SNAP XAT Micat come from our course, Join our MBA GK Course covers for all MBA exams: