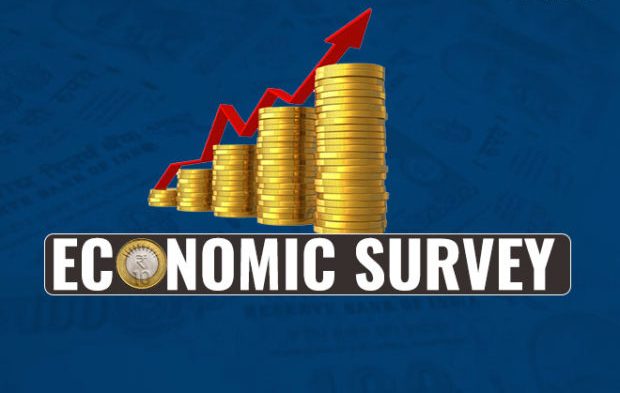 The government tabled the Economic Survey of India in the Budget session of Parliament. The Survey projected India's GDP to grow at 7-7.5 per cent in FY 2018-19. The Union Budget is presented on February 1.
Economic Survey pegs 2018-19 GDP growth at 7-7.5 per cent; says current high oil prices a major concern.


GDP to expand by 6.75 per cent in 2017-18, re-instating India as world's fastest growing major economy, says Economic Survey tabled in Parliament.


Economy accelerated in second half of current fiscal due to GST, bank recapitalisation, liberalisation of FDI and higher exports.


Post-demonetization and GST increase in new tax filers (over and above natural increase) of about 1.8 million and some boost to individual income tax collections


Demonetisation has encouraged financial savings
 
Insolvency Code being actively used to resolve NPA woes
 
Preliminary analysis of the Goods and Services Tax data reveals 50 per cent increase in the number of indirect taxpayers
 
Textile package boosted exports of key man-made ready-made garments by 16 percent.
 
Policy agenda for next year — support agriculture, privatise Air India, finish bank recapitalisation
 
Tax collection by states, local governments significantly lower than those in other federal countries
 
Retail inflation averaged 3.3 pc in 2017-18, lowest in last 6 fiscals
 
Urban migration leading to feminisation of farm sector
 
Rs 20,339 cr approved for interest subvention for farmers in current fiscal
 
FDI in services sector rises 15% in 2017-18 on reforms
 
Fiscal federalism, accountability to help avoid low equilibrium trap
 
India's external sector to remain strong on likely improvement in global trade
 
Technology should be used for better enforcement of labour laws
 
Swachh Bharat initiative improved sanitation coverage in rural areas from 39% in 2014 to 76% in January 2018
 
Priority to social infrastructure like education, health to promote inclusive growth
 
Centre, states should enhance cooperation to deal with severe air pollution
 
Survey 2017-18 in pink colour to highlight gender issues
 

Indian parents often continue to have children till they have desired number of sons

 The Agriculture growth in FY18 likely to be at 2.1%, while the Industry growth for FY18 likely to be 4.4%.

Services growth for FY18 likely to be at 8.3% and the country's economy should witness improvement in next fiscal year.