1st week of October
1) Magicbricks Launches India's First Online Property Bidding Platform
Magicbricks announced the launch of India's first online bidding platform for residential and commercial properties and tied-up with developer M3M for the inaugural 'My Bid, My Home' under which consumers can bid for ready-to-move-in residential properties in Gurugram.
2) Airtel Gets Approval for Tigo Merger
Bharti Airtel has received Ghana's National Communications Authority's approval for the merger between Bharti Ghana (Airtel) and Millicom Ghana (Tigo), subject to certain conditions.
This merger will result in an entity which will be the second largest mobile network operations in the country.
3) Government Names Rajnish Kumar as SBI's Next Chairman
The Government named Rajnish Kumar as the new chairman of State Bank of India, for a three-year term. Kumar has succeeded Arundhati Bhattacharya.
4) Fourth Bi-monthly Monetary Policy Statement Released by RBI
Repo rate: 6%
Reverse Repo rate: 5.75% 
Bank rate: 6.25%
Remember repo rate is the interest rate at which banks borrow money from RBI. Reverse repo rate is the interest rate at which Banks park their money with RBI.
5) World Teachers' Day: 05 October
6) Forbes India Rich List 2017: Mukesh Ambani Richest With $38 Billion while Azim Premji is at the 2nd place with $19 Billion, Azim Premji is assciated with wipro.
7) Kazuo Ishiguro Wins 2017 Nobel Literature Prize.
Sixty four-year-old Mr. Ishiguro was born in Japan and his family moved to the United Kingdom when he was five. His most renowned novel, the Remains of the Day (1989), was turned into film with Anthony Hopkins as the butler Stevens. 
Remember
The Swedish Academy in 2016, awarded the Nobel Literature Prize to U.S. counter-culture icon and rock star Bob Dylan.
8) Banwarilal Purohit Sworn-in as Governor of Tamil Nadu He was sworn in by Tamilnadu Governor.
9) 2017 Nobel Peace Prize Announced
The Norwegian Nobel Committee has decided to award the Nobel Peace Prize for 2017 to the International Campaign to Abolish Nuclear Weapons (ICAN) "for its work to draw attention to the catastrophic humanitarian consequences of any use of nuclear weapons and for its ground-breaking efforts to achieve a treaty-based prohibition of such weapons".
10) FIFA U-17 World Cup 2017 Started in india
The Official Mascot of the FIFA U-17 World Cup India 2017 is a clouded leopard called Kheleo.This is the first FIFA tournament hosted by India.The final will be held at the Salt Lake Stadium in Kolkata on 28 October 2017.
11) Cabinet approves renaming of kandla Port as Deendayal Port.
Kandla port is situated om gulf of kutch in Gujarat. It is one of 12 major ports in India. 
It is the largest port in India in terms of volume of cargo handled. 
2nd week of October
1) India ranked at 100th place in Global Hunger index 2017, behind north korea and bangladesh. Last year India ranked at 97th place. 
The Global Hunger Index, now in its 12th year, ranks countries based on four key indicators — undernourishment, child mortality, child wasting and child stunting.
2) Actor Anupam Kher has been appointed the new chairman of Film and Television Institute of India (FTII), located in Pune. He succeeds former television actor Gajendra Chauhan.
3) Axis Bank Appoints Sangram Singh as Freecharge CEO
Axis Bank Ltd has recently completed the acquisition of mobile wallet firm Freecharge and appointed Sangram Singh as its CEO. He has replaced Jason Kothari.
4) IMF Trims India growth Forecast for Current Financial Year to 6.7 %
The International Monetary Fund (IMF) has trimmed India's growth forecast for Financial Year 2017-18. In its latest World Economic Outlook released, the IMF lowered India's growth forecast for 2017 to 6.7% from its earlier estimate of 7.2 percent.
Remember,
GDP Forecast of all these three entities:-
World Bank : 7%
IMF: 6.7%
ADB: 7%
5) World Bank Reduces India GDP Growth Forecast to 7% for 2017-18
Earlier it was 7.2%. 
GDP: Gross Domestic Product
Gross domestic product (GDP) is the monetary value of all the finished goods and services produced within a country's borders in a specific time period.
6) Indian Air force day: 8th October
Also Remember
Indian Navy Day: 4th Dec
Indian Army day: 15th Jan.
7) 2017 Nobel Peace Prize Winner Campaign ICAN
The Norwegian Nobel Committee has awarded the Nobel Peace Prize for 2017 to the International Campaign to Abolish Nuclear Weapons (ICAN) "for its work to draw attention to the catastrophic humanitarian consequences of any use of nuclear weapons and for its ground-breaking efforts to achieve a treaty-based prohibition of such weapons".
8) 2017 Nobel Prize in Economic Sciences to Richard H. Thaler
The Sveriges Riksbank Prize in Economic Sciences in Memory of Alfred Nobel 2017 was awarded to Richard H. Thaler "for his contributions to behavioural economics".
9) US and Israel Withdraws from UNESCO
The US and Israel announced their withdrawal from the UN's cultural agency UNESCO after Washington accused it of anti-Israeli bias. The withdrawal of the United States, which is meant to provide a fifth of Unesco's funding, is a major blow for the Paris-based organization. 
UNESCO is best known for designating World Heritage Sites such as the ancient city of Palmyra in Syria and the Grand Canyon National Park.
Remember
HQ of UNESCO: Paris, France
Irina Bokova is the Present Director-General of UNESCO.
10) Safe Cities Index 2017: Tokyo Safest, Delhi 43rd.
Japanese capital city Tokyo has topped The Economist Intelligence Unit's Safe Cities Index 2017, which ranked 60 cities on parameters including personal and health security
11) India-Sri Lanka Joint military training Exercise 'MITRA SHAKTI 2017' Started
3rd week of October
1) The Coalition Years 1996-2012: Pranab Mukherjee's Political Autobiography.
Former President Pranab Mukherjee has released the third part of his memoir 'The Coalition Years: 1996-2012', speaking candidly about believing he could have been the Congress choice for the Prime Minister's post.
Mukherjee's memoir is the third in the series. The other two are — The Dramatic Decade: The Indira Gandhi Years and The Turbulent Years: 1980-1996.
2) Carnatic Vocalist TM Krishna wins 2015-16 Indira Gandhi award for National Integration.
3) New Director General of UNESCO: Audrey Azoulay
She will replace Director General Irina Bokova.
HQ of UNESCO: Paris, France
4) US Author George Saunders Wins 2017 Man Booker Prize.
US author George Saunders has won the 2017 Man Booker Prize. He became only the second American writer to win Britain's renowned Prize, which was awarded for his first full-length novel *"Lincoln in the Bardo"*.
5) PM Modi Inaugurates 1st ever All India Institute of Ayurveda in New Delhi.
Prime Minister Narendra Modi inaugurated the first ever All India Institute of Ayurved (AIIA) in *New Delhi*, on the occasion of the 2nd Ayurveda Day.
It is the first institute under the Ministry of AYUSH.
6) Kavita Devi, India's First Woman Wrestler to Sign for WWE.
Kavita Devi, a former competitive powerlifter, has become the first ever Indian woman to be signed by the World Wrestling Entertainment (WWE).
7) INS Kiltan commissioned in Indian navy: Indigenously-built anti-submarine warfare stealth corvette INS Kiltan was commissioned an into the Indian Navy at the Eastern Naval Command (Naval Dockyard) in Visakhapatnam, Andhra Pradesh.
It is India's first major warship to have a superstructure of carbon fibre composite material resulting in improved stealth features, lower top weight and maintenance costs.
8) India tops list of pollution linked Deaths: survey.
India has topped list of countries with pollution related deaths in 2015. China stood at 2nd place.
9) Indra 2017: 1st tri services military exercise between India and russia begins.
Tri services: army, navy and air force.
Last week of October
1) ISSF World Cup 2017- Highlights
Hosts India finished seventh overall with one gold, one silver, and a bronze, while Italy pipped China in the medals tally, as the ISSF World Cup Final, in New Delhi.
India won through Jitu Rai/Heena Sidhu (gold in mixed team 10m air pistol).
2) Yonex French Open 2017 Badminton tournament was held in Paris. French Open Badminton Tournament is held annually since 1909 in France.
Important Highlights-
Indian shuttler Kidambi Srikanth became the first Indian to win the men's singles title at French Open badminton tournament.
3) All About FIFA U-17 World Cup 2017
A. The 17th edition of FIFA U-17 World Cup took place for the first time in India.
B. The official Mascot for the FIFA U-17 World Cup 2017 was clouded leopard named 'Kheleo'.
C. The final match of the event was held in Salt Lake Stadium, Kolkata.
D. Jeakson Singh creates history by scoring India's first ever goal in FIFA World Cup.
E. England has won the FIFA U-17 World Cup by defeating Spain by 5-2.
4) Book on Dr. APJ Abdul Kalam's inspirational Words Titled 
"Dreamnation: Uniting a Country with Handwritten Dreams", is released. 
The book is Co-authored by Saji Mathew and Jubie John and published by Bloomsbury.
5) India registers its highest ever increase in ease of doing business rankings.
India's rank: 100th
In 2016 India's rank was 130. 
Remember world bank publishes this report.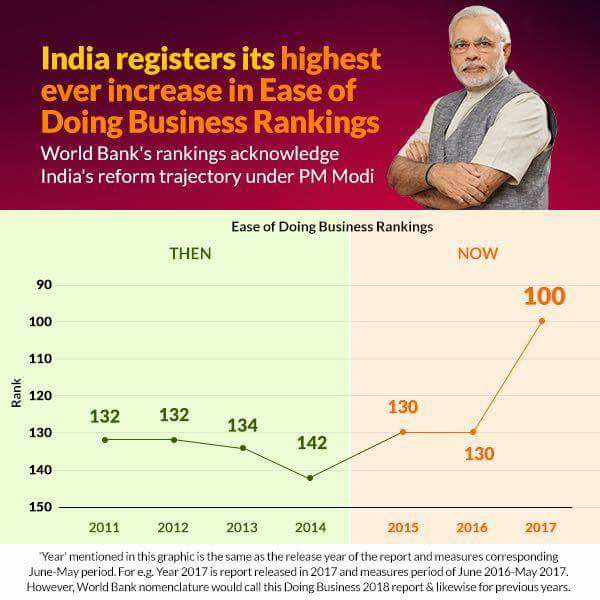 6) England beat Spain 5-2 to Win First-ever U-17 Title
England scripted a dramatic turnaround in Kolkata to win the *2017 FIFA U17 World Cup* for the very first time after a 5-2 win over European U17 champions Spain.
7) Pro Kabaddi League 5th season winner:
Patna Pirates Clinched Third Pro Kabaddi Successive Title
Pardeep Narwal scored incredible 24 points to steer Patna Pirates to third consecutive Pro Kabaddi title. Pardeep, who had scored 76 points in three playoffs, helped Patna come from behind and thump Gujarat Fortunegiants 55-38 in the summit clash of Pro Kabaddi season 5.
8) Saudi Arabia, First Country to Grant Citizenship to a Robot
Saudi Arabia has become the first country to give a robot citizenship. The move is an attempt to promote Saudi Arabia as a place to develop artificial intelligence and, presumably, allow it to become a full citizen. The Robot is named as 'Sophia'.
9) Burundi, First Nation to Leave International Criminal Court
Burundi became the first nation ever to leave the International Criminal Court (ICC), set up 15 years ago to prosecute those behind the world's worst atrocities.
Burundi is the only one of three African nations to go ahead with its withdrawal after making moves last year to leave amid accusations that the court focuses too much on the continent.
The ICC was established in 2002. It is based in the Hague, the Netherlands.
Bujumbura is the capital of Burundi and Burundian franc is its currency.
10) India has 3rd Highest Number of Family-Owned Businesses: Report
India has 108 publicly-listed family-owned businesses, third highest in the world, while China tops the tally with 167 such companies followed by the US which has 121, according to the Credit Suisse report.
11) Honda overtakes Bajaj to seal No 2 spot in domestic bike sales
Honda Motorcycle and Scooter India (HMSI) has raced past Bajaj Auto to become the second biggest bike seller in India during the first half of the ongoing fiscal. Market leader Hero MotoCorp continued its hold on the segment.
12) India beats Malaysia 2-1 in the finale to win the 2017 Asia Cup Hockey tournament held in Dhaka, Bangladesh.
13) Kidambi Srikanth Lifts Denmark Open Superseries Trophy 2017
In Badminton, ace Indian shuttler Kidambi Srikanth has lifted the Denmark Open Superseries trophy at Odense, Denmark.
Kidambi Srikanth has recently (June 2017) won Australia Open Super Series title.
14) IPPB Appoints Suresh Sethi as its MD & CEO
India Post Payments Bank (IPPB) has appointed Mr. Suresh Sethi as its Managing Director & Chief Executive Officer. Mr Sethi was the former MD of Vodafone M-Pesa Ltd.
Aapka bank, aapke dwaar is the Tagline of IPPB.IPPB is Headquartered in New Delhi.
15) United Nations Day: 24th October
16) Cristiano Ronaldo Named Best FIFA Men's Player
Real Madrid star Cristiano Ronaldo has beaten Lionel Messi and Neymar to win the Best FIFA Men's Player award for the second year running.