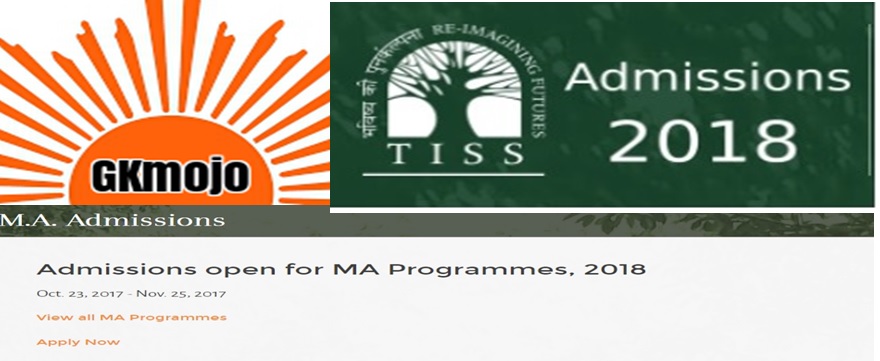 TISS has released its notification for academic year 2018-20.
1. M.A. Entrance Test
Computer based National Entrance test (TISS-NET) will be held on Saturday,  January 06, 2018, from 2pm to 3.40 pm in 39 centres located in different parts of the country. The computer based test is of objective type and even those with a rudimentary knowledge of working with a computer can take the test.


The objective test will have questions related to
General Knowledge;

Analytical Ability, 

Logical Reasoning; and

English Proficiency.
TISS NET 2018 WILL NOT HAVE NEGATIVE MARKING FOR ANY PROGRAMME INCLUDING HRM. CANDIDATES WHO HAVE APPLIED FOR A SINGLE PROGRAMME OR MULTIPLE PROGRAMMES WILL BE ATTEMPTING A SINGLE QUESTION PAPER WITH 100 QUESTIONS FOR A DURATION OF 100 MINUTES, THIS INCLUDES CANDIDATES WHO HAVE CHOSEN HRM IN COMBINATION WITH OTHER PROGRAMME/ PROGRAMMES.
KINDLY NOTE :
This year General Awareness will consist of 40 marks, English Proficiency  30 marks, Maths and Logical Reasoning – 30 marks.

TISSNET Previous year paper:  Click here
Syllabus for tissnet exam:  Click here
2. M.A. Selection Procedure
---
The selection of candidates for different programmes happens in two stages and has three components of assessment. All candidates appear for the National entrance test (TISSNET). Based on the performance in the TISSNET examination, only short listed candidates are called for the Pre Interview Test and Personal Interview.(PIT/PI)
Marks for Different Components of Assessment
| | |
| --- | --- |
| National Common Written Test* | 100 marks |
| Pre-Interview Test/GD | 50 marks |
| Personal Interview | 75 marks |
| Total | 225 marks |
TISS NET 2018 WILL NOT HAVE NEGATIVE MARKING FOR ANY PROGRAMME.
3. M.A Admission Timeline for Academic year 2018-20
Sr.no.
Event
Mumbai
Tuljapur
Hyderabad
Guwahati

I

Announcement of Admissions

October 24, 2017 (Tuesday)

II

Last Date for Online form APPLICATION / REGISTRATION for All Master's programmes

November 25 , 2017 (Saturday)

III

Last Date for receipt of application form by post

November 27,2017 (Monday)

IV

Issue of Admit Cards (Online )

December 18-19, 2017 Monday-Tuesday

V

Pre-admission orentation Programme for SC/ST/OBC/Minority and PWD candidates will be held at Mumbai/Tuljapur/Hyderabad and Guwahati Campuses

December 22 – 23, 2017( Friday-Saturday)

VI

National Entrance Test (Computer Based) at Different Centres
January 06, 2018 (Saturday)

VII

Announcement of TISS-NET results Candidates who appeared for the national entrance test will have to visit the TISS website and login to download your score card.

January 27, 2018 at 8:00pm (Friday)

 VIII

Pre-Interview Test and Personal Interview at TISS for programmes offered at Mumbai, Tuljapur, Hyderabad, Guwahati and BALM, Chennai Campuses.

March 03 To March 11, 2018

(Mumbai and BALM, Chennai)

March 13 To March 17, 2018 
March 20 To March 23, 2018  
 March 26 To March 29, 2018 

IX

 Announcement of Selection on TISS website for all the Programmes

 April 27, 2018 (Friday)
4. M.A. Eligibility
Check from here: Click here
5. M.A. How to Apply?
Check from here:  Click here
Get to know about TISS GK: Click here 
Join our TISS GK Course, which is the best GK Course for TISSNET Exam :  Click here